Artist
"…his color is almost unfailingly apt, imaginative and attractive. For a young man, too, he commands an exceptionally wide palette."

The New Yorker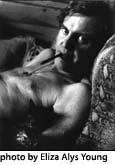 Personal
A Fulbright Scholar to Haiti, he painted, filmed and studied its vodun culture for over three decades. In Manhattan he shared his loft in the flower district with LIFE photographer W. Eugene Smith, maintaining friendships with Jackson Pollock, William Dekooning, Franz Kline and Zero Mostel. For five years he hosted weekly jazz sessions where musicians as diverse as Thelonious Monk, Pee Wee Russell, Zoot Sims and Charles Mingus regularly played.
David Young was born in Eastham, Cape Cod on Feb. 15, 1930. He passed away from emphysema on May 22, 2001.
Professional
At the age of 21, David had his first one-man show of paintings at the Mortimer Levitt Gallery in New York.
Exhibitions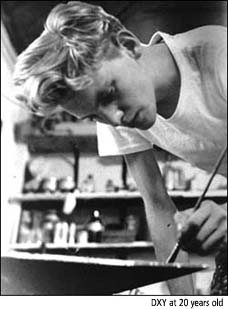 Mortimer Levitt, NYC
Shore Studios, Provincetown
Museum of Fine Arts, Boston
Swetzoff, Boston
March Gallery, NYC
Studio Gallery, Miami
HCE, Provincetown
Holland-Goldowsky, Chicago
Blackhawk, Chicago
Zabriskie, NYC
Summerhalt, NYC
Townhouse Galleries, Fort Lauderdale
Gayhead Gallery, Martha's Vineyard
OIA, NYC
Swansboro, Wellfleet
Andre Zarre, NYC
National Press Club, Washington
State Department, Washington
His work is in many private collections as well as the Hirschorn-Smithsonian in Washington
Publications
Bennington Review
JazzIz
Cape Cod Times
Brilliant Corners: The Journal of Jazz & Literature
DoubleTake
HeadPress U.K.
New York Times
Roots of the Cold War — a film he produced and directed for historian Arthur Schlesinger, Jr.
Klaximo — an avant-garde film from 1963 produced and directed independently which been shown at the Knitting Factory, NYC and is available for festivals and gallery events.
Inconveniences — an autobiography
CNN InTime produced and aired a feature on the David X Young JazzLoft
CBS Sunday Morning produced a feature on the David X Young JazzLoft
The Duck Season —a screenplay for a feature filmset in Cape Cod
Rwa Congo —a screenplay for a feature film set in Haiti and based on a true story
Cizamon — a fully-illustrated children's book which placed in the finals for the Brandt Point Prize of Beverly Hills
"One of the Boston-New York artists who honestly developed from that controversial period of American Art."

Charles Egan