JazzLoft Story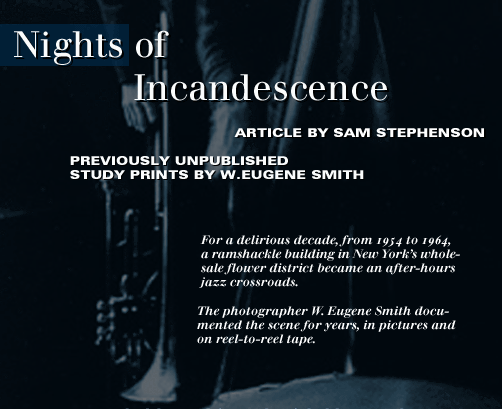 IN THE HEART OF NEW YORK CITY'S WHOLESALE FLOWER DISTRICT, near Twenty-eighth Street, is 821 Sixth Avenue, a narrow, five-floor walkup. The building was constructed for commercial purposes in the 1880s, a few years after the Sixth Avenue elevated train was built. Today the structure looks like many others in the area. It is slightly wider than the length of the parking space in front of it. Its brick front is painted gray and is coated with scum and grime. The building houses Bernie's Discount Center—a retailer of televisions, microwave ovens, and other electronic appliances. Signs for Toshiba, Sony, and Mitsubishi plaster the second-floor windows. A faded message in a third-floor window reads, "Buy a Friedrich, Get a Check." The remaining windows are opaque with dust. It is an unprepossessing place, bearing no clues that it once was an extraordinary crossroads of human creativity.
For ten years, beginning in 1954, jazz musicians by the hundreds made 821 Sixth Avenue their after-hours headquarters, climbing the creaky, wooden staircase to the lofts on the top three floors for impromptu jam sessions in the middle of the night. Many of the biggest names in jazz hung their hats here, for at least a few hours, if not for several years. In what came to be known as the "Sixth Avenue loft," Thelonious Monk and Hall Overton rehearsed the music for their legendary concerts at Town Hall in 1959, at Lincoln Center in 1963, and at Carnegie Hall in 1964. Miles Davis, Charles Mingus, and Teddy Charles honed the sound heard on the record Blue Moods here. The place drew such prime players as Bill Evans, Bill Crow, Zoot Sims, Jimmy Giuffre, Roy Haynes, Gerry Mulligan, Stan Getz, Jim Hall, and Dave McKenna, who formed ad hoc ensembles that often included such veteran stars as Buck Clayton, Vic Dickenson, and Pee Wee Russell. But it was not uncommon for an utter stranger—an unproven newcomer—to sit in with a legend: if you could play, you were okay. "It might have been the best form of democracy I've ever seen," the trombonist Bob Brookmeyer has said. In 1957 the photographer W. Eugene Smith, a fervent music fan, moved into the building and began to document the goings-on. During a time in his life that he later called "the worst"—a relative term, given Smith's always stormy personal affairs—the jazz scene seemed to inspire and anchor him. For seven years he meticulously recorded life at 821 Sixth Avenue, producing more than twenty thousand negatives and recording more than eight hundred hours of jam sessions on reel-to-reel tape.
The intersection of talent at 821 Sixth Avenue could have occurred nowhere other than New York. The city was the center of the jazz world, and musicians were flocking there from all over the country. Suddenly this building, which had been abandoned for decades, became a place for musicians to be seen and heard. There was always the chance that Salvador Dali or Norman Mailer or Willem de Kooning might drop by with an entourage to take part in the scene. The unorthodox rhythms of hard bop and improvisational jazz meshed with the daily rhythms of the city. At dawn each day the flower growers would arrive to peddle their blooms in the neighborhood markets. Then, after midnight, with the shops closed and quiet, the jazzmen surfaced for a night of full-tilt blowing. And somewhere on the premises, floating on the periphery of the action, the furtive Smith and his camera would be clicking away. He once called the building's story a "unique piece of Americana," and thanks to his documentary efforts and the memories of surviving loft regulars, we can piece together this special time and place.
After the Sixth Avenue elevated train tracks were razed in 1939, Lewis Mumford wrote in The New Yorker, "The dreary mess of buildings that loitered beside the old 'L'—much of it dating back to the 1870s—has long been ready for demolition." In 1954, when David X. Young, a twenty-three-year-old artist from Boston, first saw 821 Sixth Avenue, it still was a dreary mess. Young needed a large, low-rent place in which to paint. He was looking for a single-floor studio, but the landlord offered him the third, fourth, and fifth floors, for $120 per month. Young took them.
"The place was desolate, really awful," says Young, who now lives and paints in a loft on Manhattan's Canal Street. "The buildings on both sides were vacant. There were mice, rats, and cockroaches all over. You had to keep cats around to help fend them off. Conditions were beyond miserable. No plumbing, no heat, no toilet, no electricity, no nothing. My grandfather loaned me three hundred dollars and showed me how to wire and pipe the place."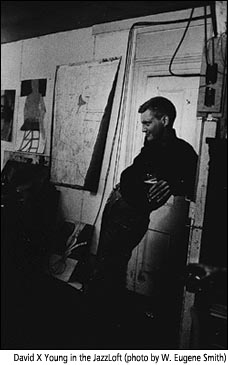 As a teenager, Young developed a passion for jazz. He was a regular at Boston jazz clubs like the Savoy and the Hi Hat, and he made friends with many musicians. The improvisational energy of jazz inspired his abstract expressionist paintings. When he moved to New York, Young helped to pay his bills by designing jazz album covers for Prestige Records. He did covers for Jimmy Raney, the Modern Jazz Quartet, Miles Davis, Sonny Rollins, Teddy Charles, and Art Farmer. Privy to many recording sessions, Young found himself hanging out with musicians. "If he'd spent as much time with the painters at the Cedar Bar instead of around us jazz guys," the vibraphonist Teddy Charles says, "he might have become recognized as one of the great painters." "One of the problems they always had," Young says of his musician friends, "was finding places to rehearse where they wouldn't bother anybody with noise. I went with Bob Brookmeyer and Jimmy Raney to some of their practice sessions at Nola's studio, where everybody would chip in fifty cents or something for a room. But that wasn't good. A lot of them didn't have any money, and there'd be a time limit on the rental. So I thought about my loft. I realized I had the ideal space for these sessions. I checked around and found a good piano for fifty dollars, delivered. Some movers, huge guys, brought the piano over to my loft, hoisted it with ropes up the side of the building, and brought it in through my front window. I got Billy Rubenstein to come over and tune it, and we were in business."
A few months after settling in, Young defrayed costs by subleasing the third and fourth floors to the jazz composers Dick Cary and Hall Overton. Both men were married, with permanent residences in the city. They rented the space for practice sessions but frequently stayed overnight. Cary had worked as a pianist and a horn player in Dixieland- and New Orleans-style bands, including a few with Louis Armstrong. In Young's mind, he was the ideal tenant. "Cary couldn't have cared less about the terrible conditions," Young says. "His way of dealing with the mice and cockroaches was to set up little plates of food in the corners. He said if you fed them they wouldn't bother your real food." Hall Overton was a classically trained pianist who taught music at Juilliard and the New School for Social Research. He was revered in jazz circles as an innovative arranger. He had worked with Charles Mingus, Oscar Pettiford, and Stan Getz, and had forged a strong relationship based on deep mutual respect with Thelonious Monk—not an easy task. A suit-and-tie man who had Doris Duke, the billionaire tobacco heiress, as a music student, Overton was also cool enough to revel in the relaxed squalor of the loft.
Cary brought in his own piano, a Steinway grand, and had it lifted up to the third floor. And because he liked working side by side with pianists, Overton had a pair of upright pianos put on the fourth floor. "In this dilapidated loft," Young says, "we had four good pianos."
Word quickly spread in the jazz underground that 821 Sixth Avenue was a congenial haunt. "We were always looking for spacious places to play late at night," the bassist Bill Crow says, "especially places with tuned pianos. Dave Young's place was perfect." The building was soon drawing both established stars and young players eager to prove themselves on one or another of the upper three floors. It was not the only jazz loft in the city at the time—there were perhaps six to eight others—but by most accounts it drew the biggest names, showcased the latest talent, and lasted the longest. "Charlie Mingus and I started going [to the loft] a lot in 1954 and 1955," Teddy Charles says. "We had some wild, free sessions over there: Art Blakey, Miles Davis, Art Farmer, Gigi Gryce, Mal Waldron, Jimmy Knepper, Oscar Pettiford, and dozens of other guys. I remember Bill Evans coming into the loft sometime around 1955 or '56. He looked like a schoolkid. But within a few months or a year he'd taken the whole city by storm. Nobody knew who the hell he was when he first came in there. That was how it was, though. The only thing that counted was the music." The casual, drop-by-if-you-like nature of the loft meant that the quality of the music varied from night to night. Common ground was usually the blues, or standards such as "Stella by Starlight" and "All the Things You Are," but the mood could shift dramatically depending on a single personality. The saxophonist Leroy "Sam" Parkins remembers New Year's Eve in 1959, when he was playing with the drummer Louis Hayes, the bassist Doug Watkins, the saxophonist Zoot Sims, the guitarist Jimmy Raney, and the pianist Sonny Clark. "We were playing and having a good time," Parkins says. "Then the door flew open and Lee Morgan, Pepper Adams, and Yusef Lateef walked in. The whole scene changed immediately, and the music reached an unreal level. The sessions didn't gel every night, but this time the damn place nearly exploded."
"Guys played with people they'd never seen before," Bob Brookmeyer says. "Whites, blacks, old guys, young guys. Nobody cared about that stuff. We were all outlaws. Our profession wasn't considered respectable. There was a sense that we were all in it together." On a few nights Cary and Overton and Young had, simultaneously, three different ensembles playing varying styles of jazz on three different floors. "The music was cheerfully eclectic," the historian and cornet player Richard Sudhalter says. "It was free of all the categories that jazz critics are so fond of today."
Zoot Sims and Dave McKenna—two hard-swinging stalwarts who could play in almost any style—often appeared at 821 Sixth Avenue, as did many other lesser-known musicians. Bill Takas was the "house" bass player; he and Sonny Clark and the drummer Ronnie Free made up the rhythm section for many sessions. "Because basses, pianos, and drums are so much harder to move, any place with a rhythm section would attract horn players from all over town," Takas says. "We'd put the word out and you never knew how many would show up—two, three, or twenty-five horn players. The masters might be there, or cats you'd never seen before." When young free-jazz players such as Ornette Coleman, Don Cherry, Charlie Haden, Roswell Rudd, and Steve Swallow joined the scene, in the late fifties, their penchant for less structure, fewer stated chords, and soloing without limits altered the scene. But the camaraderie held up to a remarkable degree.
The noncommercial atmosphere of the loft and the acceptance of strangers was a break from clubs and studios, which preferred established stars. Ronnie Free, for example, is credited by many with having propelled some of the loft's greatest sessions ("Sometimes it was like he was burning, he was so hot," the bassist Steve Swallow says), but his name registers hardly a trace in official jazz histories today. The pianist and composer Dave Frishberg, who discovered 821 soon after leaving the air force, in 1957, found it liberating to be "playing in a free atmosphere all night long without anybody complaining or hearing you except the guys you were playing with." But, he adds, "It wasn't pressure-free. If you didn't play well, you'd hear about it." And even though mice were running around the floor, a social etiquette prevailed. "It was generally understood," Swallow says, "that you could drop by any night after eleven o'clock. It was considered rude to show up earlier."
Regulars debate how much the loft's relaxed attitudes toward drinking and drug taking attracted musicians during the repressed fifties. Marijuana and alcohol had long been staples in the jazz diet, and both were freely available at the loft. A go-all-night lifestyle doesn't encourage normal eating and sleeping habits. Swallow remembers one session in particular: "[Zoot Sims was] drinking and playing his ass off, as he always did. He kept a coffee can nearby and spit blood into it all night. He had an incredible constitution." Swallow—who had left Yale University at age eighteen, in 1958, to play jazz full-time in New York—often jammed into the early hours with Sonny Clark, who, unbeknownst to Swallow, was a serious drug abuser. "Sonny would hit me up for loans, and I'd give him a buck or two. I didn't know the junkies hit up the younger guys because the older ones were tired of loaning them money. I was naive. But to me, shelling out a couple of bucks to Sonny Clark was like paying tuition. He taught me a lot about music that I could not have learned anywhere else."
Crucial to the Sixth Avenue Scene
Hall Overton and Thelonious Monk had met in 1959, when Jules Colomby, a mutual friend, put them together to arrange Monk's compositions for a ten-piece band. Until then Monk had worked mostly solo or in small combos. His knotty chords and topsy-turvy melodies stumped many who tried to arrange his tunes for big bands, and his reluctance to discuss his music made it seem all the more enigmatic and wondrous. But Overton, whose affable nature is as fondly remembered as his musicianship, hit it off early with Monk, and from 1959 to 1964 they met frequently at 821 to prepare for the elaborate concerts at Town Hall, Lincoln Center, and Carnegie Hall.
Monk and Overton were formal dressers and chain smokers. "They'd have the whole place filled with smoke," Young says. "They would sit at the two pianos for hours working on their charts, smoking the whole time." Young's bed on the fifth floor rested over Overton's pianos, and many nights, if Young retired early—before two a.m.—he would drift off to sleep with the two pianists trying out chords immediately below him. "I tell you," he says, "it was something to have Thelonious Monk, one of the distinct geniuses of music, playing underneath you while you're going to sleep."
When Monk and Overton had their music scored, they would bring the entire band to 821 Sixth Avenue. The trombonist Eddie Bert was one of three musicians (the saxophonists Charlie Rouse and Phil Woods were the others) who played in all of Monk's famous big-band concerts between 1959 and 1964—not to mention the rehearsals, which have become fabled in themselves. "Monk had his own way of telling us what to do," Bert says. "One time he was dancing in the other room at the loft while the band was playing. He kept dancing around and around and we kept playing. Finally Hall yelled over at him, 'Hey, when are you gonna play the piano?' Monk yelled back, 'When the tempo gets right.' He kept dancing and we kept playing and when we got it right, he joined us. That's how it was. That's why the music is so great."
Overton bridged the communication gap not only with Monk but also with other jazz figures. "The range of musicians who sought his help was tremendous," the saxophonist Lee Konitz says. "[It went] from Dixieland guys to avant-gardists like Ornette Coleman. Hall was crucial to the Sixth Avenue scene. Guys wanted to be around him, both for his knowledge and his friendship." If lung cancer had not killed him in 1972, Overton might by now be universally recognized as an imaginative mentor, like the late Gil Evans, who fostered experimentation and devotion in successive generations of musicians, no matter what the latest trends. "Hall should be a famous figure today," the pianist Dick Katz says. "But he had absolutely no capability or willingness to promote himself. He was satisfied hanging out at that loft and playing music without getting any attention. But he had an enormous impact on many of us."
The Red-Hot Eugene Smith
In 1957, Eugene Smith moved into a space sublet by Overton on the fourth floor of 821 Sixth Avenue. A famous photojournalist for LIFE magazine since his early twenties, Smith was thirty-eight years old and at the top of his profession. But he was going through a harrowing stretch in his personal life. He was miserable and made many of those closest to him miserable in turn. He had four children and a wife living at his home in Croton-on-Hudson, New York, and another child living with a longtime lover in Philadelphia. He virtually abandoned all of them when he moved into 821 to complete what he regarded as his magnum opus: a kaleidoscopic study of the city of Pittsburgh.
Smith had quit a stable, high-paying position with LIFE in early 1955 and had gone to Pittsburgh for a seemingly routine three-week freelance assignment to make a hundred photographs for the city's bicentennial. He eventually stayed for a year and made some thirteen thousand photographs of the city. Aided by two successive Guggenheim grants, Smith spent three more years obsessively making prints and devising layouts of his essay. He eventually brought more than six hundred of his Pittsburgh prints to a form that met his stern standards. LIFE and Look magazines each offered him $13,000 ($61,700 in 1999 dollars) for the rights to the prints, but when the magazines would not agree to his demands for editorial control, Smith rejected their offers, despite his nearly desperate financial situation. He never finished the Pittsburgh project; the grandest work of his career ended up, he said, as a "debacle."
The loft at 821 Sixth Avenue became Smith's refuge during these years of escalating ambition and diminishing income. His financial problems mounted, and his manic highs and suicidal lows were aggravated or produced—it was hard to say which—by addictions to alcohol and amphetamines. But Smith never stopped working. In a 1976 interview he recalled the time around 1958 as his peak as a photographer but his nadir as a human being: "My imagination and my seeing were both—I don't know if I can think of the right term—red hot or something. Everywhere I looked, every time I thought, it seemed to me it left me with a great exuberance and just a truer quality of seeing. But it was the most miserable time of my life."
The musicians who visited the loft—staying up all night, tuning out the workaday world, driven by passion rather than cash or fame—inspired Smith and provided focus for his energy. He loved music. As a combat photographer in World War II he had amazed soldiers by carrying boxes of records and a portable phonograph to the front lines. When he died in 1978, writes his biographer, Jim Hughes, he had only eighteen dollars in the bank but he owned more than twenty-five thousand vinyl records, mostly classical and jazz. He especially admired music that sought beauty in dissonance—late Beethoven and anything by Monk were favorites—and he wanted his photography, especially his Pittsburgh project, to achieve that same rare state.
Smith left evidence of himself in stacks of prints all over 821, even if he was not always visible in person. Because of the discreet way Smith hung around the jazz sessions, Zoot Sims affectionately nicknamed him "Lamont Cranston," after the mysterious character in the radio serial The Shadow. Musicians sensed that Smith was a comrade, a fellow outcast.
The image of Smith maintained by the loft musicians contrasts with the one that still prevails today in many photography circles, where his compulsions are judged to have been driven by megalomania. The guitarist Jim Hall remembers a night when he and Jimmy Raney had a gig at the Village Vanguard jazz club. Their wives attended and took snapshots of the band. When Hall and Raney made their late-night rounds at 821 Sixth Avenue, they asked Smith to help with their film. "We were a bit uncomfortable asking the Master to help us with our piddly photographic work," Hall says, "but he responded with kindness and generosity. He took us into his darkroom and treated our film like it was his. You'd have thought he was making pictures for LIFE. He was extremely particular about it. That's how he always was."
Ronnie Free, the tireless drummer said to be responsible for many of the loft's most incandescent nights, says he has "no memories of Gene sitting down," and adds, "I have no memories of him eating or sleeping. He was like a mad scientist. He had all these tables spread out all over the loft with slides, negatives, prints, and all his equipment and cameras and lenses everywhere. He worked day and night. He always had an assistant or two around, and I never knew where he got the money to pay them. He was as broke as I was." Despite a twenty-year age gap, Free and Smith were united by mutual desperation: both had serious drug habits. Free had a connection at a drugstore; Smith gave Free a place to stay, on his recliner, for more than a year. "Gene and I swapped goodies," Free says. "My favorite amphetamine was a little white pill called Disoxyn, which I shared with Gene. Gene gave me what he called 'physic energizers.' In those days if I found a pill on the street I'd pop it in my mouth without even knowing what it was. I'm lucky to be alive today. But I was virtually homeless. The only things I owned were my drums and the clothes on my back. Gene was generous enough to let me stay. And he was in a similar situation as me, trying to get everything back in order." In addition to photographing the jam sessions, and despite his shrinking bank account and ballooning drug habits, Smith managed to obtain an array of mobile audio equipment, and with the same fanatical devotion that he gave to his photography he began to wire the top three floors of the loft with microphones. "One time we were playing in a session in Dave Young's fifth floor," Bill Crow recalls. "We kept hearing this buzzing noise and didn't know what it was. It sounded like a grinding noise. We finished a tune and all of a sudden this puff of sawdust pops up out of the floor, right between Freddy Greenwell's feet. It was Gene Smith drilling holes for his microphones. He had the place wired like a studio."
Smith's collection of reel-to-reel four-track stereo tapes from the loft years, organized at his death, filled fourteen cardboard boxes. The tapes that have labels list the names of 129 different musicians. Add to that the testimony of Dave Young, other surviving musicians who played there, and a few regular fans, and the number of musicians who played at the loft reaches some three hundred. From the recording speeds indicated on the labels, estimates are that he taped between eight hundred and twelve hundred hours, and on the tapes available for listening, the sound quality is high. Many of the hundreds of photographs taken by Smith of the Monk-Overton collaboration show that microphones and tape machines were present—a tantalizing prospect for jazz scholars.
Smith clearly gained sustenance from the musicians and identified with their need to test themselves in a noncommercial setting. "They were searching for something they can't find in their club dates," he said in a 1965 lecture at the Rochester Institute of Technology. "One night, a saxophonist named Freddy Greenwell came in after midnight on a Sunday night. A drummer named Ronnie Free was there. They started jamming together, and they continued to play until Friday, almost without stopping. Ronnie was a brilliant young drummer, and he drove the session along with tremendous fury and grace. He was working on something, searching for something, and he kept playing until he found it. Many different musicians dropped in throughout that week and played. They'd leave, and Ronnie and Freddy kept right on playing. It was an amazing show of determination. I was inspired by it. I try to put that level of determination in my own work."
The Smell of Flowers
A romantic view of the loft years prevails today among those who were part of the scene at 821 Sixth Avenue, even if they saw things differently at the time. "Looking back on it, the scene was a major achievement," Bob Brookmeyer says. "But we didn't know that what we were doing was unique. We were just committed to the music. Now I realize how special it was."
After Dave Young was evicted from the building in 1964, while he was in Haiti, the jam sessions tailed off. Cary and Overton moved out. The following year Smith took over all three floors and made them the base of his photographic operations. During the opening night of his legendary 642-picture retrospective at the Jewish Museum, in 1971, Smith was still frantically making prints and having his assistants carry them from 821 Sixth Avenue to the museum. He lived in the loft until later in 1971, when he, too, was evicted, just as he was setting off for Japan to photograph the mercury-poisoned fishing village of Minamata.
In letters written in 1978, not long before his death, Smith expressed a wish to put together a book of photographs from his years at 821 Sixth Avenue. He and Young discussed mixing the photographs and tapes to create a multimedia exhibition. But nothing ever happened.
Despite creeping gentrification, New York's flower district still retains much of the character it had during the fifties and sixties. The upper floors of Bernie's Discount Center are now used for storage, but the dusty rooms, with their rough-hewn, sagging floors, look virtually unchanged from Smith's day. Today the smell of flowers after a sweaty night of jamming is still alive in the memories of many of the loft's habitues. "I remember coming out of that loft in the morning and being overwhelmed by the aroma of fresh flowers," Dave Frishberg says. "It was ironic," Steve Swallow says. "Here were the dregs of the 1950s jazz scene, on their way home at dawn, mixing with the flower-shop owners who were unloading fresh flowers off of flatbed trucks. Dawn was always the best time to smell those flowers. The streets were quiet. The light and the air seemed new. I loved coming out of that loft and smelling those flowers."
Originally published in DoubleTake Magazine, Issue 18, Fall 1999